BACK TO BASICS
rom the first toilet training of mankind some one and a half million years ago we've suffered more than other animals from problems of anal hygiene. At that time homo erectus, having descended from the trees, adopted a permanently vertical posture. This then is one of the drawbacks of bipedalism, a simple engineering deficit implicit in our use of two feet in preference to four. Along with the appendix, it makes us wonder whether evolution was all that clever in making us assume this perverse carriage.
To this day our dogs, to take one domestic example, appear not to need a single square of toilet paper. Why? I think it is a matter of bio-engineering: being a quadruped, its rear aperture is left open to the four winds. Our cheeks on the contrary – as soon as we stand after evacuating our bowels – fold together as if to shed no further light on the matter. Those early hominids needed a bidet.
Comparatively quite recently – less than five thousand years ago – at Harappa in theIndus Valley, a city second only to Mohenjo-daro in size, water-borne toilets have been discovered: you squatted on a clay brick seat open to the water flowing under it, and your faeces were carried merrily away on the current. Assuming that no one upstream was doing the same, you could then use the water as a natural washing device.
Some four hundred years later, Egyptians had sitting toilets – but without the water. As for the Chinese, in 1391 AD an emperor apparently ordered a consignment of paper for the imperial behind; the sheets were sized two by three feet, so we must assume that he wasn't small.
It's with the Romans we first know for sure what they wiped themselves with. It was a stick with a sponge at one end which, after use, they swirled round in salt water to clean it off for the next user. Indeed, they were not in the least self-conscious of their natural functions. Even the highest born patrician would not let micturition interrupt his discourse at a banquet: he simply clapped for a slave to bring him a silver pot, whereupon he would demonstrate that Romans could combine rhetoric with urination.
At the public latrines of ancient Rome – of which there were reputed to be one hundred and forty-four – urns called dolia curta were provided for the citizens to pee in. These were collected frequently by the garment workers, the urine being used in the process of extracting lanolin from woollen cloth. The fullers would stamp on the flooded wool like treaders of grapes; and if they were late in their collection, they were charged a urine tax. The whole experience was far from our own perfunctory visits to public toilets: men would sit around in deep conversation preparing to open their bowels, some even hoping to cadge a meal from a wealthier sitter as the poet Martial tells us:

Why does Vacerra spend his hours
in all the privies, and day-long sit?
he wants a supper, not a shit.
The richer Roman households had underfloor conduits from the nearest aqueduct. Like the Indians some three thousand years earlier they were able to relieve themselves into this permanently flushing water. In Pompeii on the other hand all but the most indigent benefited from such a system. Poorer citizens, though, had to rely on pots, which they would empty into vats under the stairs; in turn these would to trundled away to cess pits from time to time. Thus walking into your average Roman tenement took your breath away.
Urine was useful for other purposes, helping to wash the clothes of the metropolis. Later they discovered soap, which primitive German tribes had been using; with this as a detergent urine was even more effective.
During the Dark Ages – so-called from the colour of the ever-present turds – the rich of Europe shat from openings in their battlements, the walls becoming curiously dappled in shades of brown and black, gong farmers being occasionally employed to clean them off. Alternatively, these lords and ladies were able to aim directly into water – say, into your moat, giving harmless nutrients to the fish you'd eat on Fridays in the great hall. The poor and the not-so-poor either used the street as their open toilet (not unlike the Liverpool of today after a hard night's drinking) or else hoarded their waste in pots which were tipped out of windows later. In the eighteenth century citizens of Edinburgh still did this to the shrill warning of 'Gardez l'eau'.[1] In passing, I might mention that the very word 'loo' spelt L-O-O and marked 'origin unknown' in the Oxford dictionary may well derive from the French word for water.
In the smaller medieval towns there were pigs rooting round in the thick mud of the streets in search of faecal matter, which the magic of their chemistry was to turn into tender pork. If the poor human shadows squelching there used anything to wipe themselves with, it would have been wool, hemp or grass (where this grew), maybe even stone, sand or, if available, water. With the growth of newspapers in the seventeenth and eighteenth centuries, the wiping of bottoms became one of their chief utilities. French royalty on the other hand used only the best lace.
In 1596 the courtier poet John Harington, a godson of Queen Elizabeth, invented the water closet while banished from court for translating a bawdy poem by Ariosto. Temporarily allowed out again, he had one of his WCs installed for the Queen in her palace at Richmond. Later that year he wrote The Metamorphosis of Ajax (that is, a jakes or toilet) in which he described his invention so wantonly that he received a second banishment. Think that over when next you're seated on your jakes.
Towards the end of the seventeenth century the Sun King's favourite in-law, the pretty Duchesse de Bourgogne, would often stand with her back to Louis's roaring fire before going to the Versailles theatre with him, a maid keeping hot and busy behind her. One evening he asked her what her woman was up to. 'Just giving me an enema, Sire. I don't like having to rush out in the middle of a good play.'
In the same century Pepys tells us:
And so to bed, and in the night was mightily troubled with a looseness (I suppose from some fresh damp Linnen that I put on this night); and feeling for the chamber pott, there was none [. . .]; so I was forced in this strange house to rise and shit in the Chimney twice; and so to bed and was very well again, and to sleep till five a-clock [. . .][2]
It was only when I read repeatedly in theDiary about its author sitting on his stool and its monthly clean-out that I realised the word had become confused later by contamination with what Pepys and his contemporaries were dropping into it: thus we now talk about our stools though no longer sitting on any – a form of synechdoche. Perhaps I should mention the prestigious post of Groom of the Stool. Under Henry VIII it was Sir William Brereton for years; his job was to keep the king's 'house of easement [. . .] sweet and clear' but also see that the royal behind remained spotlessly clean, the operation being done manually. Sir William was implicated with Anne Boleyn and executed. A subsequent Groom of the Stool, one of his perks being to inherit all the royal privies, came in for six commodes and many potties at the royal despot's death.
I resist the temptation to go into all the improvements to the WC from Brondel to Crapper, from slide-valves to the U-bend or the siphoning system. Instead, I return to the Indian sub-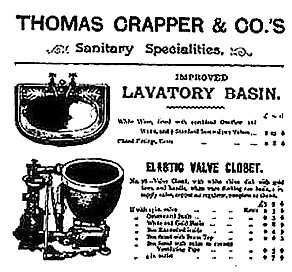 continent, birthplace of anal hygiene. Here, we are told by Dr Bindeswar Pathak PhD, DLitt, that nearly fifty million tonnes of crap are excreted per annum - not fortunately per anum – along with 328.5 billion litres of urine – two thirds of which in the open. History has a funny way of making the first last.
In Punjab before independence grandmothers would eat the first turds of a male child when it was born after many years of marriage or else after a long run of daughters. We are not told why they didn't continue with this picturesque tradition after 1947.
From Joseph Cayetty's 'therapeutic paper' in 1857 with his name printed on every sheet to Scott's first toilet rolls of 1890, from the Old Farmer's Almanach with its pre-punched holes to hang it in our outdoor toilets to the mat-page catalogues - we have simply been scratching the surface. What is needed is ablution, and here Muslims are well ahead of us, washing their bottoms out of plastic water bottles each time they defecate, though the French and other Europeans are just as civilised with their bidets. You may very well, like most British and American whites, keep the rest of your body spotless; if you disregard this vital area, you cannot be said to be clean at all.
And who would you expect to solve this pungent problem? – Why, the Japanese. And indeed in 1999 they designed the Toto paperless toilet on the lines of a car wash from $1,800 to $5,000: a jet of water becomes a current of hot air, and you are clean and dry without having lifted a finger.
Let us go out right now and buy our Toto toilets.