Copyright © 2008 Jud Evans. Permission granted to distribute in any medium, commercial
or non-commercial, provided author attribution and copyright notices remain intact.

ART AND THE TRUTH OF THE HUMAN CONDITION

JUD EVANS


INTRODUCTION

What does it mean to claim that a work of art represents a truth about the human condition?

I answer this question at the outset thus. Only some art, for some people, represents a perceived truth about the human condition. Does the reification *Truth* exist anyway? I for one think not. For me the only truth-statement is that which nearest describes the electro-chemical actuality of some existing physical object. All truth-claims (particularly those concerning art) are emotive, subjective, opinion-based assertions

Some art, for some people, represents absolute nonsense or worse. The so-called *Truth* perceived to communicated in *a work of art* can be no more than a subjectified illusion or a deliberate misrepresentation or outright lie. Such nonsense or rubbish art was a characteristic of the Zeitgeist of Germany in the nineteen-thirties reflecting as it did the inhuman conditions of many of the people who were unlucky enough to be living and dying in Nazi fanatic Heidegger's Third Reich.

In this essay I hope to persuade the reader of the view that I offer, which is that art in its many forms is just as much a means of communicating propostions about the world with the use of film, paint, ceramics, photography, musical sounds, sculpture or dance, etc. as the more commonly human experience of employing natural language. Even an apparently uncontroversial painting of a landscape involves the artists invitation to us to see the world as he or she does. To think like him or her.

From the very beginnings of art, when man, in the recesses of his dark cave first dipped a finger in the fire-soot and by the flickering light of a burning brand traced the outline of some beast of prey upon the wall and looked over his shoulder for the appreciation of his fellow troglodytes - art assumed its place, as the mirror reflecting our mutually shared human condition and acting in a manner that Hamlet (speaking to Polonius of his players) described as the abstracts and brief chronicles of the times. [1] (Shakespeare. 1855. p. 355.)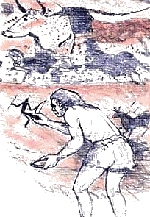 Art reflects back at us the human condition both personal and public, the commonplace and the dramatic. In Hanfling's Philosophical Aesthetics, Rosalind Hursthouse draws our attention to Aristotle's opinion that tragic poetry 'yielded us knowledge of truth.' Unlike Plato, who was generally uncharitable towards poets, Aristotle believed that poetry is something more philosophic and of graver import than history. His reasons? Because poetry's statements are of the nature of universals, whereas those of history are of singulars. He was obviously referring to the universal givens of the human condition - how people react to the world - what they usually say and do. Moreover he claimed that it yielded us knowledge of a special sort of universal truth; not the sort that the natural sciences give us, but the sort that is necessary for moral wisdom - truth about human nature and about life. Art then reflects the intensely personal, the social, the national, the racial and the religious.

As Rosalind Hursthouse remarks, such artistic representations need not be of the trompe l'oeil type. An example of art which seeks to be so realistic that it is taken for reality is that of the Greek Zeuxis of who was said to have painted grapes so realistic that they fooled crows.

Sometimes the non-literal, the abstract and the allegorical artistic subjects incorporate disguised references which allude to an arcanum known only to a special group.

Whatever the art, whatever the subject and whatever the aesthetic idiom, it is made available to us via the multifaceted sensorial medium of the linguistic, pictorial, semiotic, plastic and auditory languages of the arts by which the artist, a fellow experiencer of the human condition, expresses the aesthetic features through which we are reminded of our mutually shared human condition.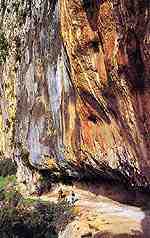 Twenty-four thousand years before the birth of Christ, concerned with spirits which must be assuaged and the procreation upon which the very survival of the group relies, the primitive sculptor clad in skins whittles the generous curves of the female form from wood or limestone with a sharpened flint. A legion of human lifetimes later, in a studio at Vauvenargues in the south of France not many miles away from Chauvet, the 32,000 years old cave dating from European Paleolithic, Picasso coaxes form from formless watercolours, oils or acrylics. Unveiled not with sharp flint or splayed-twig brush, but with brush, thumb and palette-knife, pigmented images speak to us modern mortals personally, in forms of abstract significations or familiar perceptibilia.

Like all artists, Picasso bespeaks to us of our own human condition with a similar economy of line as profoundly persuasive as the morphological thrift of our ancestors' Venus of Willendorf. But the painting I have in mind speaks not of fruitfulness but death. His painting Guernica depicts the Nazi German bombing of Guernica, Spain, in 1937 during the Spanish Civil War. Lots of innocent civilians were killed and many more were injured. Picasso presents a true portrayal of the human condition in time of war. A scene of violence, brutality, suffering, and helplessness.


Carved from oolitic limestone and only four inches high, the religious fertility object continues to speak to us of the human religious condition across a void of 26,000 years. It is in such artistic artifacts that we may look upon and see reflected there - ourselves.

Do these religious fertility objects speak of the truth of the human condition so long ago? Yes, it is through such primitive art that the religious experience we share today, the desire to be fertile and experience the joy of children was a human condition experienced by our ancient ancestors so long ago.

This is an instance of what it means to claim that a work of art represents a truth about the human condition, but as when a later discuss Isenberg's no-truth theory, such claims can be very personal and one viewers interpretation of an aesthetic representation of a truth about the human experience may be another's most vile lie. There we encounter our own timeless, uniquely species-specific human condition - not so much the physical, bodily condition which is nowadays more liberated from the ravages of sickness and pain, from that of our cave-painter brothers.

Art speaks more to our emotions, our sensitivities, our fears, our titillation and our joyfulness, our psychological concerns and our personal relationships. It was expressed as art and petroglyphs which adorned the walls of our ancestors' caves, now it graces publicly supported galleries, it is piped into our living rooms and can be found on the wide cutting tables of the couturier's studio and fitting rooms.

According to Santayana, the psychological concept of projection plays a large part.

Expression always involves two terms, the aesthetic object itself and the associations it has for us which we project onto it and perceive as qualities of that object. He claims that beauty is not regarded as a pleasure regarded not as a property of ourselves but of an object. For him expression involves two terms, the aesthetic object itself and the associations it has for us which we project on to the object.
[2] (Wilkinson. 1995. p. 230.)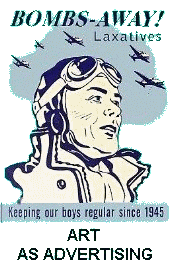 Such Platonism is far too metaphysical for me, though I know exactly what he means. Such a notion of projection is very much like that of Theodor Lipps which he referred to a Einfuhlung (empathy) a version with which I am a little more comfortable.

In another Paris studio, Rodin and others brought into being similar, if more sophisticated forms. There, on bench or plinth liberated from formless clay deposits of the Meuse and Haute-Marne, are modelled meditations on the human condition. Skeletally supported by structural armatures or small maquettes, at the behest of busy human fingers, clay-derived Promethean models boldly emerge from their adobe aggregation. They are inanimate, original and unique, but the figures they pose in their simulated reified angst or jubilancy are as physically and universally disjunct as their animated creators.

Ted Cohen chides Sibley for a lack of a set of demarcationary rules. We need no Ted Cohen's putative set of rules to appreciate and evaluate Rodin's The Thinker or The Kiss. The would-be rule-seekers once talked of a Golden Section. If asked to draw a line and then add a line at right angles to it, it was found that nearly all people divide the line in the same place. Suggesting that a picture that exhibits a similar configuration contains some mysterious aesthetic ingredient. It took Croce to point out, that if that proportion was a feature of every good picture, we would conclude that if we found a picture with such a ratio we would have discovered a valuable artwork.

There are no rules! We look, we like or dislike - it is all done on a one-off basis. The sculptures speak of the truth of the human condition with a power and individual immediacy which is obvious and unique. The world of art is a world of aesthetic singletons which lack the kind of generality that lends itself to sets that formalists crave.

But not every work of art expresses a truth about the human condition. As Isenberg confirms:

The criticism of a belief follows a standardized method, commonly termed "verification," and terminates in a verdict of probable or improbable, true or false. Our snap judgments and stubborn prejudices are compelled by this method to follow the courses to which they have previously committed themselves. [3] (Isenberg. 1954. vol. xiii)

In other words much of the works of art that we confront does not correspond to our concept of what is true about the human condition but rather address the putative truths concerning the human condition of certain conditioned humans. As examples we point to the art of the Third Reich, the childlike naivety or hate literature of certain religious books and illustrations, or the prurient depictions of the female form which reduces women to the status of objects.

In response to Sibley's claim that recognising aesthetic properties requires a special sensitivity and taste. His critics Ted Cohen and Peter Kivy protest that the ability to attribute such properties does not presume a special faculty, since anyone can distinguish a graceful line from an ungraceful one. I would have thought that such a criteria sets the bar a little low? The appreciation of the beautiful is far more complex than that.

Even an illiterate Bushman who has never seen a painting in his life can appreciate a graceful curve, as anyone familiar with the phenomena of steatopygia will be able to confirm.

For me such theorists are bereft of any cogent alternatives regarding the nature and rationality of critical evaluation. I get the feeling that the academic nit-picking is to find an angle or a niche in order to get attention for career purposes. As Colin Lyas makes clear - in The Evaluation of Art, there is no such thing as reason giving.

Hampshire in Logic and Appreciation concludes that this is because each work of art is original and unique. One of the defenders of the notion of the aesthetic in modern times is Monroe Beardsley who suggests a restricted form of categorisation by positing three basic criteria of what merits beauty in art - unity, complexity and intensity. Colin Lyas promptly responds that almost everything can have unity, and until a definition of aesthetic unity is provided we are back at square one. Furthermore Lyas correctly points out, though we can think of artworks that may have unity, complexity and intensity, we can also think of plenty of ones which incorporate such features and are bad art.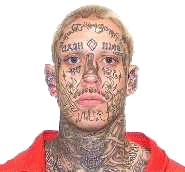 I would add that Colin Lyas' criticism on this point is also applicable to Aristotle's order, symmetry and definiteness.

Art in its many forms is ubiquitous presence in our contemporary environment. We confront it in advertisements, chalked on pavements, pasted in the bowels of the London underground and junk-mail. It is encountered in concert halls, in the fashion houses and as artistically designed jewellery which adorns the bodies of women with taste, and in the tattoo parlours where some folk are not so much concerned with delicate discrimination. It is found in the cinema, and on the Internet and as Gombrich ironically remarks:

Nowadays many a modest amateur has mastered tricks that would have looked like sheer magic to Giotto. [4] Gombrich 1977. p. 7.)

If there is anyone left who still seeks for a what one might call a Grand Unified Theory of Art well tell them they are too late - art is by us and about us and bespeaks of our universal, temporally diachronic, never-changing human condition. But HOW does art reach us?

What is the mechanism whereby art reaches out and speaks to us of the truth of our human condition?

Let's see what some leading aestheticians have to say . Contemplating Rodin's sculpture The Thinker we may be prompted to describe it. Perhaps we might say,

It's a man sitting on a rock with his chin in his hand, it's caste in bronze and it's about six feet tall.

According to Frank Sibley's account these attributes are non-aesthetic concepts. An average person of normal intelligence is immediately able to identify them. We might equally say of the object,

It portrays a man in serious thought battling with a powerful internal struggle. It depicts man's inexhaustible curiosity and hopes. He dreams. The fertile thought slowly elaborates itself within his brain. He is no longer a dreamer, he is a creator. It is a recognizable icon of intellectual activity and is often associated with philosophy.

For Sibley these are aesthetic concepts. Unlike the recognition of non-aesthetic concepts, acknowledgement of aesthetic concepts requires a certain taste, refinement and sophistication. But in the above the attributive cognitive traffic is all one way - from observer to statue. The question I asked was:

What is the mechanism whereby art reaches out and speaks to us of the truth of our human condition?

I did not ask:

What is the mechanism by which we can differentiate the aesthetic from the non-aesthetic and best convey the way that the aesthetic speaks to us of the human condition?

The answer has been staring me in the face, at least it was until I read Count Tolstoy's account . The artist feels an emotion. Apparently for Tolstoy, a Christian, it is a sentiment of human brotherhood. But it could equally be a desire for celebrity, or even in some cases (De Sade) notoriety. He wishes to convey this to others. He creates a suitable vehicle. A book, a painting, an opera calculated to engender a similar emotion with those who experience such works.

For Collingwood the emotion is less Philadelphian, more personal. The emotional activity and pleasure lies in the inchoate feeling of release from emotional tension as he gets his feeling cathartically 'off his chest.'

Yes, for me a work of art ( and a work of philosophy for example) itself is purely a medium which conveys the thoughts, feelings, desires and all the other human exteroception to stimuli originating outside of the body to which we respond (or recoil). Whether our response is to a visual, auditory, tactile, gustatory or olfactory encounter with an art form, (the Societe Centrale de la Parfumerie Francais certainly claims it to be an art) there is only one entity that can communicate those sensitivities - and that is - another human being who is a fellow-experiencer of the human condition - the artist.

There is no Barthean Death of the Artist/Author - the author/artist may be dead, or just forgotten, but the spirit of the author lives on, and if the work is one which truly speaks of the truth of the human condition it will continue to elicit a reciprocatory truthful response from the experiencer (viewer, listener etc.) Just think of any well known work of art of which the author is dead or even anonymous - they live on in the spirit.

So now to refer to the question again.

What does it mean to claim that a work of art represents a truth about the human condition?

It means of course that:

(a) The artist must successfully create a piece of art which faithfully represents and is capable of eliciting a reciprocatory truthful response from the experiencer (viewer, listener etc.)

(b)

The experiencer must be of sufficient intelligence to perceive what is communicated and if he or she wishes to relay such feelings of spiritual, ethical, emotional and psychological import to another person, do so in a form of language which is aesthetic rather than non-aesthetic.

Hence in order to convey truth the artist and her/his art must be instructive, celebratory, empathetic, connective, sharing, revealing, understanding, spiritual and religious, emanating from and reaching out to some deep inner human need or needs - and to speak of needs is to speak of the very nature of being human.

Who could disagree with this? Well Heidegger would. For the Nazi philosopher the artwork and the artist, exist in a dynamic where each appears a provider of the other. Neither is without the other. Nevertheless, neither is the sole support of the other. For Heidegger art is a thing that can be separated from both artefact and creator. But how can this be when the sole source of the concept is the artist's brain and the sole source of the artefact the artist's hands?

One thing Heidegger does say that makes sense is his observation that works of art are not merely representations of the way things are, but actually produce a community's shared understanding. The banality of the art of totalitarian states acts as a two-way demarcationary mirror of the human condition. Whilst faithfully reflecting the low-brow, thuggish banality of the evil instigators of such dreadful human landscapes, it also truthfully reflects the human condition of the persecuted masses they persecute. To say:

This may be the only truthful axiomatic generalisation we can make about art that works? Therefore, only some art, for some people, represents a truth about the human condition. Some art, for some people, represents absolute nonsense or worse - an outright lie.

References.

[1] Shakespeare. W. Hamlet. Complete Illustrated Shakespeare. 1851. Routledge, London
[2] Wilkinson. Robert. Art, Emotion and Expression. Philosophical Aesthetics. 1995. Oswald Hanfling ed. Blackwell Publishers, Oxford. UK
[3] Isenberg. A. The Problem of Belief. Journal of Aesthetics and Art Criticism. 1954.
[4] Gombrich. E. H. Art and Illusion. p. 7. Phaidon. 1977. 5th edition.