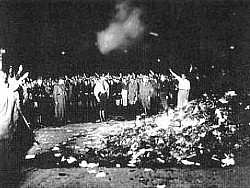 Here are the chronological highlights of events that relate to Nazi policy against the Jews in German academia surrounding the period between Heidegger's acceptance of the Rectorship of Freiburg University . and resigning [or being forced to resign] the position. He was such a renowned liar that it is doubtful if we will ever find out the true facts. Other significant historic events are included to provide an enhanced context.


1933 Burning Books by Einstein, Mann,
H.G.Wells,and other writers of Jewish
origin or those non - Jewish scientists
and authors considered inimical to Nazi
doctrines.

Prof Emmanuel Faye on Martin Heidegger:

*Moreover he speaks of identifying the hidden enemies within the nation - "in order to annihilate them totally:" as with Jünger, this expression, "hidden enemies within the nation" means primarily the assimilated Jew.*

Prof. Emmanuel Faye
"The author of *Heidegger: The Introduction of Nazism into Philosophy* exposes the revelations. His conclusions are terrible." Le Nouvel Observateur Semaine du jeudi 28 avril 2005 - n°2112 - Livres



1933


January 1933:
Approximately 525,000 Jews live in Germany, representing about 0.77 percent of the total population. (NG, 15, 338)

January 30 1933:
Aging President Hindenburg appoints Adolf Hitler chancellor and orders him to form a coalition government.

January 30 1933:
Albert Einstein visits the United States. He reacts to Hitler's ascension to power by calling it a "psychic illness of the masses and never returns to German soil. He is subsequently dismissed from his position at the Kaiser Wilhelm Society, expelled from the Prussian Academy of Sciences, and stripped of his citizenship.

February 4 1933:
Hitler's government issues the "Decree for the Protection of the German People* It requires political organizations to report all meetings and marches in advance; and allows police to forbid meetings, demonstrations and pamphlets. (HJ, 29)

March 1933:
All members of the Prussian Academy of Arts and Sciences receive a confidential letter from poet Gottfried Benn suggesting that they sign a declaration o f loyalty to the new regime. Nine out of twenty-seven members of the literature section refuse, including the novelists Alfred Doblin, Thomas Mann, Jakob Wassereman, and Ricarda Huch.(NG, 11).

March 18 1933:
Philosopher and literary critic Walter Benjamin leaves Berlin for Paris. (NG, 9)

March 23 1933:
Interior Minister Wilhelm Frick submits to the cabinet a new law that would exclude *non-Aryans* from the civil service, including university professors. The law is passed in final form on April 7th 1933.

April 1 1933:
The nationwide Nazi boycott of Jewish businesses.

April 1933:
Twelve professors from various academic fields ask the Bavarian Ministry of Education not to dismiss a Jewish colleague, Munich University philosopher Richard Huningswald. He is nonetheless dismissed. (NG, 52)

April 1933:
The local Nazi newspaper in Freiburg publishes a list of Jewish members of the university medical faculty. The head of psychiatry provided the list. (NG, 50-51).

April 4:1933
Famed German novelist Thomas Mann, a non-Jew who was exiled from Germany, writes in his diary: "As for the Jews¦ That Alfred Kerr˜s arrogant and poisonous Jewish garbling of Nietzsche is now excluded, is not altogether a catastrophe; and also the de-Judaiziation of justice isn't one.* (NG, 14).

April 6 1933:
The State of Baden expels all Jewish university teaching assistants. (NG, 36- 37)

April 10 1933:
A group of deans and faculty from Freiburg University travel to Karlsruhe to plead on behalf of their local mayor, who had been threatened with dismissal on political grounds. During a meeting with officials, the delegation is reminded of its obligation to dismiss Jewish faculty members at the University. According to notes from the meeting. The professors promised that the decree would be loyally implemented. Within two days, the order is fulfilled. (NG, 51)

April 13 1933:
The National Socialist Student Association affixes the "twelve theses" to university buildings and billboards throughout Germany. The theses denounce Jews, Marxism, pacifism, Freudian psychology, and more. Thesis 7 reads, "When the Jew writes in German, he lies. He should be compelled, from now on, to indicate on books he wishes to publish in German: "translated from the Hebrew.˜ (NG, 57)

April 14 1933:
Minister of Education Bernhard Rust, citing paragraph 3 of the Law for the Restoration of the Professional Civil Service, dismisses a number of Jewish

April 7 1933:
The Law for the Restoration of the Professional Civil Service decrees the removal from the civil service of non-Aryans, including Jews, Social Democrats and other "politically unreliable people. It exempts World War I combat veterans and certain of their family members. The law prompts the dismissal of 1200 Jews holding academic positions in 1933. Of the 378 scholars who had been teaching at German law schools in 1932, 120 are dismissed.

April 8 1933:
The National Socialist Student Association calls for the public burning of "destructive Jewish writing* in response to the Jews˜ "shameless incitement of Germany.* Burnings are scheduled to begin on university campuses at 6 p.m. on May 10 th (NG, 57) (See May 10, 1933).


April 19 1933:
The publication, Deutsche Allgemeine Zeitung, lists the names of 16 prominent professors who were dismissed. (NG,50)

April 20 1933:
Ernst Kantorowicz, a medieval historian at Frankfurt University, sends a letter to the Minister of Science and Education of Hesse:

"Although, as a war volunteer from August 1914 on, as a frontline soldier throughout the war, as a postwar fighter against Poland, against the Spartacists, and against the Republic of the Councils in Posen, Berlin and Munich, I am not obliged to expect dismissal because of my Jewish origins; although in view of my publications on the Hohenstgaufen Emperor Frederick II, I do not need any attestation from the day before yesterday, yesterday, or today regarding my attitude toward a nationally oriented Germany; although beyond all immediate trends and occurrences, my fundamentally positive attitude toward a nationally governed Reich has not been undermined even by the most recent events; and although I certainly need not expect student disturbances to interrupt my teaching so that the issue of unhampered teaching at the level of the entire university need not be considered in my case as a Jew, I see myself compelled nonetheless to draw the consequences of what has happened and give up my teaching for the coming summer semester.* (NG, 55)




April 22 1933.
Heidegger becomes Rector of the University of Freiburg. Forces his old tutor Edmund Husserl to retire for racial reasons When the brokenhearted Husserl dies Heidegger ignores the funeral.

April 23 1933:
Hermann Kantorowicz, professor of the philosophy and history of law at the University of Kiel, receives a questionnaire about the racial origins of his grandparents. He responds:

"Since there is no time to inquire as to which sense of the term race˜ is being utilized, I shall limit myself to the following declaration: as all four of my grandparents died a long time ago and the necessary measurements, etc. were never made, I am unable to ascertain scientifically (anthropologically) what racial group they belonged to. Understood in its common significance, their race was German, as they all spoke German as their mother tongue, which means that it was Indo-European or Aryan. Their race in the sense of the first supplementary decree to the Law of April 7, 1933, section 2, paragraph 1, sentence 3 was the Jewish religion. (NG, 49).

April 25 1933:
The Ministry of Interior orders the Kaiser Wilhelm Society to dismiss all Jewish and half-Jewish department heads and staff members. Directors of the Society are exempt. (NG, 51)

April 30 1933:
Jewish Nobel Laureate Fritz Haber, a director at the Kaiser Wilhelm Society, resigns rather than dismiss three of his four department heads and five of his professors.

April 25 1933:
The Law Against the Overcrowding of German Schools and Universities limits the matriculation of new Jewish students to 1.5 percent of the total of all new entrants and limits the total number of Jewish students permitted at any given institution. (NG, 30) thirteen staff members (see April 25, 1933). He notes, "The other directors (including those who were themselves Jewish) reported their Jewish employees according to instructions. (NG, 51).

May 1 1933:
Renowned German constitutional theorist Carl Schmitt joins the Nazi party as member 2-098-860. (NG, 55)



May 1 1933:
Martin Heidegger, rector of Freiburg University, ostentatiously joins the Nazi Party as member 3-125-894. (NG, 55).



May 3 1933:
Rectorship address 'Die Selbstbehauptung der deutschen Universität.'


May 5 1933:
Education Minister Rust delivers a violently anti-Jewish speech in the Berlin University auditorium.

May 6 1933:
The leader of the Nazi student organization at The Technical University in Hildburghausen, Thuringia, demands that a dismissed Jewish teacher not be reinstated to his position pursuant to the veterans exemption in the Civil Service law. "Agitation among the students is very strong, as some forty percent are members of the National Socialist Student Association, and to be taught by a racially-alien teacher is incompatible with their convictions. (NG, 58)

May 7 1933:
Max Lieberman, the pre-eminent German painter and former president of the Prussian Academy of Arts, resigns from the academy. (NG, 12)

June 1 1933:
A prominent jurist, Dr. Dietrich of Hechingen, writes in a technical legal periodical: "We can therefore conclude that if the law is to be interpreted rightly, the national goal is to be considered without further ceremony a motive for excluding guilt . . . Thus the judge who already has the courage freely to interpret the law may now find the right way in the appropriate situation . . . Exterminating without remainder the inner enemy is doubtlessly part of restituting German honor. (HP, 37)


Summer 1933:
Carl Schmitt and Martin Heidegger take part in a series of lectures organized by Heidelberg students. Among the papers presented are "The University in the New Reich, "The New Constitutional Law, and "The Physician and the Racial Community. (NG, 54-55)

Summer 1933:
In the opening statement of his lectures on the Roman poet Horace, the Kiel University historian, Felix Jacoby, declares: "As a Jew I find myself in a difficult situation. But as a historian I have learned not to consider historical events from a private perspective. Since 1927, I have voted for Adolf Hitler . . . Augustus is the only figure of world history whom one may compare to Adolf Hitler. (NG, 16)
May 10 1933:
Nazi student leaders burn books authored by Jews and non-Jewish opponents of Nazism. Hans Naumann, a celebrated historian of literature and culture, delivers the address at one book burning. (HP, 16) See April 8, 1933.





May 27 1933:
Heidegger denounces "dangerous international alliance of Jews" at Jaspers' home,

June 26 1933:
The Academy for German Law is founded. Headed by Dr. Hans Frank, it becomes responsible for "the whole of Nazi legislation. (HP, 38) private perspective. Since 1927, I have voted for Adolf Hitler . . . Augustus is the only figure of world history whom one may compare to Adolf Hitler. (NG, 16)

July 20 1933:
The Vatican signs the Concordat with Germany, thereby recognizing the Third Reich. The treaty serves to justify support for Nazism by Catholic theologians, professors and university students. (TH, 13)





June 30 1933:
Heidegger writes to ministry of education supporting anti-semitism,


August 1933:
Only 24 of 45 non-Aryans are still teaching at the University in Heidelberg.



July 12 1933:
Heidegger's Jewish Mistress Hannah Arendt escapes Germany.
August 12 1933:
A district leader in Central Germany writes to the Prime Minister of Saxony about student activism at the University of Leipzig: "Over the last three months I have fought rigorously and consistently against any radicalization of the university. According to your wishes, I have therefore forbidden the National Socialist students to boycott any professors. (NG, 58).






August 1933:
Rejects chair of philosophy in Munich, and Berlin again and writes personal letter to Hitler saying ''You are the saviour
of our people out of its need. Determination and honour! The teacher and frontier fighter of a new spirit."







August 1933:
Heidegger tips off authorities that Chemistry professor Hermann Staudinger (Nobel Prize 1953) was a pacifist,


August 16 1933:
The import and sale of foreign newspapers is forbidden.


September 1933: The first annual conference of law professors since the Nazis˜ seizure of power is held in Leipzig. It is dominated by the issue of "racial laws. Law professor Heinrich Stoll of the University of Tubingen remarks that, according to the consensus of those present, "the concept of race is closely linked to the concept of law, and precisely for this reason, the law represents not the work of man, but rather God˜s sacred order.* (HJ, 90)



November 11 1933:
Heidegger delivers a Radio Address supporting Hitler's withdrawal of Germany from League of Nations



December 13 1933:
Martin Heidegger seeks financial assistance for a volume of pro-Hitler speeches given by German professors to be distributed throughout the world. "Needless to say, non-Aryans shall not appear on the title page. (NG, 53)




December 16 1933:
Martin Heidegger reports to the head of the Nazi Professors Association at Gottingen about a former student who "frequented, very actively, the Jew Frankel, who used to teach at Gottingen and was just recently fired from here.* (NG, 54).





December 16.1933
Secretly denounces Göttingen philosophy professor Eduard Baumgarten,


January 1934:
Ulrich Karstedt, the Gottingen professor of ancient history, declares that "one should grumble because in a Jewish shop a window pane has been smashed or because the daughter of the cattle dealer Levi was refused admission to a student corporation. (NG, 52)


November 3:
The Rector of Freiburg University, Martin Heidegger, announces that financial aid will be denied to students who are Jewish, Marxist, or otherwise "non- Aryan as defined by applicable legislation. (NG, 53)

1934




1934
Writes Der Ruf zum Arbeitsdienst and Mahnwort an das allemanische Volk


February 1934:
Franz Werfel˜s "The Forty Days of Musa Dagh, a novel about the Turkish extermination of Armenians in World War I, is banned. (NG, 12)


16 February 1934:
"His manner of thought is exactly that kind of talmudic chicanerie which has always been resented as something particularly foreign to the German spirit. Heidegger's philosophy goes even further in the direction of vacuity, confusion and talmudic obscurity than the original, authentically Jewish works. This type of talmudic thinking, proper to the Jewish spirit, is also the reason why the thought of Heidegger has always exercised, and continues to exercise, a great power of attraction on Jews and half-Jews."

Dr Erich Jaensch, National-Socialist psychologist: Report on Heidegger to Rosenberg's office


February 22 1934:
Alfred Rosenberg delivers his first address as Commissioner (see January 24, 1934):

"The heroic attitude [of National Socialism], to begin with, departs from the single but completely decisive avowal, namely from the avowal that blood and character, race and soul are merely different designations for the same entity. In the development of the victorious National Socialist movement, a deep mystery of blood revealed itself which seemingly had died in the World War and yet was regenerated in this new movement . . . A concomitant of this experience was the rise of a new science, of a new scientific discovery which we call racial science . . .* (HP, 26)



April 27th 1934:
Heidegger resigns as Rector of Freiburg University.


June 21 1934:
The Hessian Education Ministry orders the exclusion of the Jewish Bible from the Protestant religious educational curriculum It is replaced with passages from the New Testament. HMC 2.



November 3:
The Rector of Freiburg University, Martin Heidegger, announces that financial aid will be denied to students who are Jewish, Marxist, or otherwise "non- Aryan as defined by applicable legislation. (NG, 53)

1936


Spring and Summer of 1936.
Heidegger declares his abiding faith in Hitler and his conviction that National Socialism was the correct path for Germany.
Karl Löwith, Mein Leben in Deutschland vor und nach 1933, Stuttgart: Metzler, 1986, p. 57.
1945
Former Freiburg Faculty of Law chief Erik Wolf explains that he had become a Nazi under the influence of Heidegger. Both men thus shared the same extremism.
Prof. Emmanuel Faye
"The author of *Heidegger: The Introduction of Nazism into Philosophy* exposes the revelations. His conclusions are terrible." Le Nouvel Observateur Semaine du jeudi 28 avril 2005 - n°2112 - Livres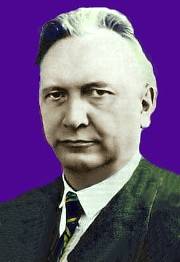 "Heidegger's kind of thinking, which appears to me of its nature unfree, dictatorial, communicationless, would be disastrous. To me the kind of thinking seems more important than the content of political judgements, whose aggressiveness can easily change direction."
(Karl Jaspers, report for the Clearing-up Committee of Freiburg University 22.12.1945)

Key:

HJ: Hitler's Justice: The Courts of the Third Reich, Ingo Maller
HMC: Holocaust Museum Chronology, United States Holocaust Memorial Museum, Washington, D.C.
HP: Hitler's Professors, 2 nd Edition, Max Weinreich, Yale University Press, 1999
NG: Nazi Germany and the Jews, Vol. 1, Saul Friedländer, HarperCollins, 1997
TH: The Holocaust: A Chronology and Documentary, Robert A. Michael, Jason

Aronson Publishers, 1999 .